Trusted by the best




Sesame for asset managers
The platform you need to institutionalise your firm and attract new capital.


Unlock your team's performance in pursuit of higher returns
How asset managers are using Sesame to grow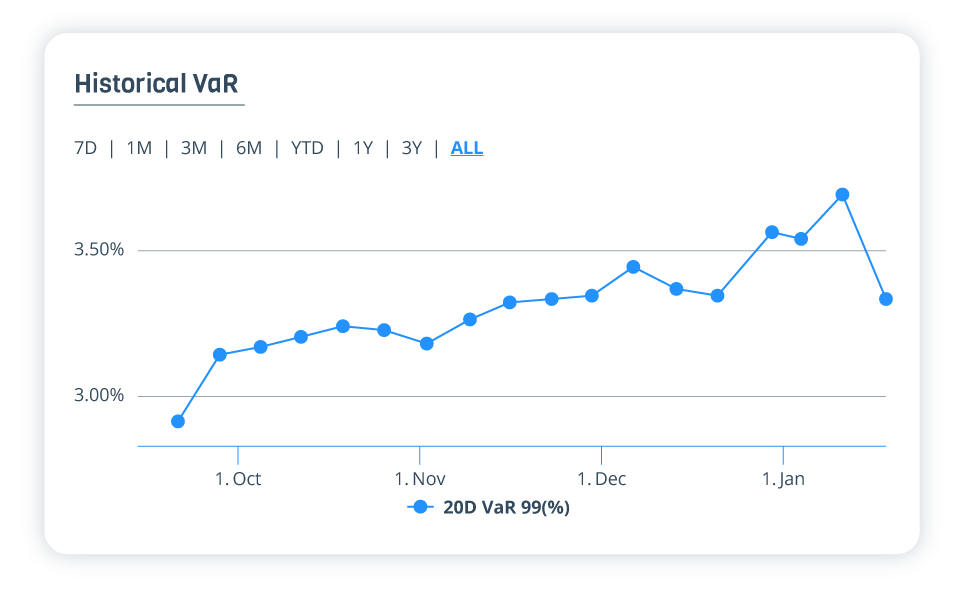 RISK MANAGEMENT
Institutional-grade risk management without the overheads
Robust and highly customisable risk analytics in a cloud-native platform, powered by MSCI RiskMetrics and BarraOne, and supported by Landytech's risk experts. Get access to best-in-class capabilities at a fraction of the cost of building the risk function in-house.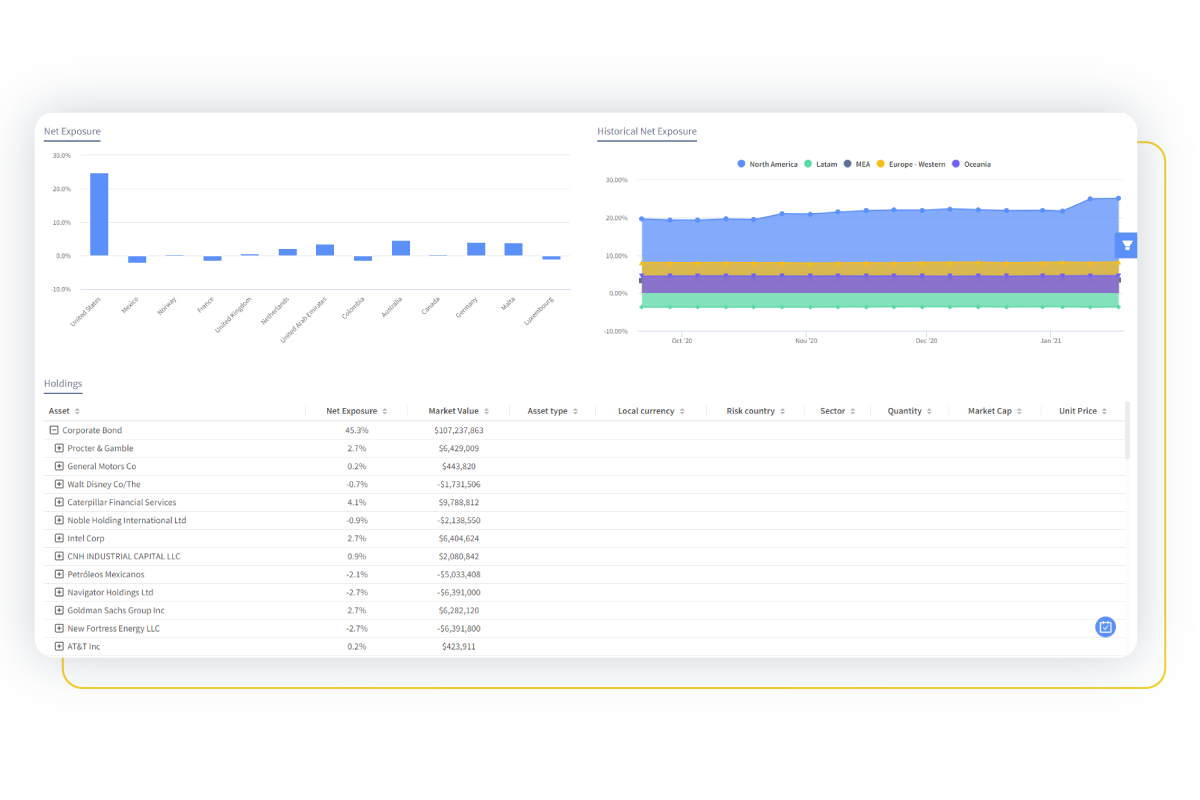 FRONT OFFICE SUPPORT
Make better investment decisions
Get instant performance and risk insights to inform your investment decision making, with contribution analytics, Brinson performance attribution and pre-trade what-if risk simulations.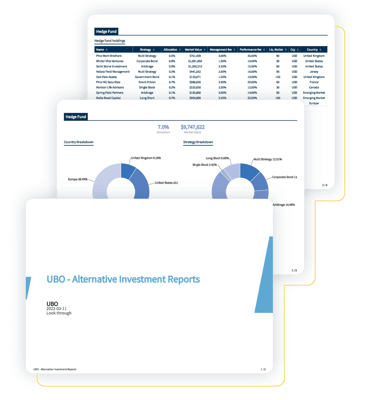 ON-DEMAND REPORTING
Create better reports, faster
Automate the production and scheduling of KIDs, factsheets, monthly newsletters, performance and risk reports. Reduce manual intervention and time spent producing reports by automating all your investment reports in one system.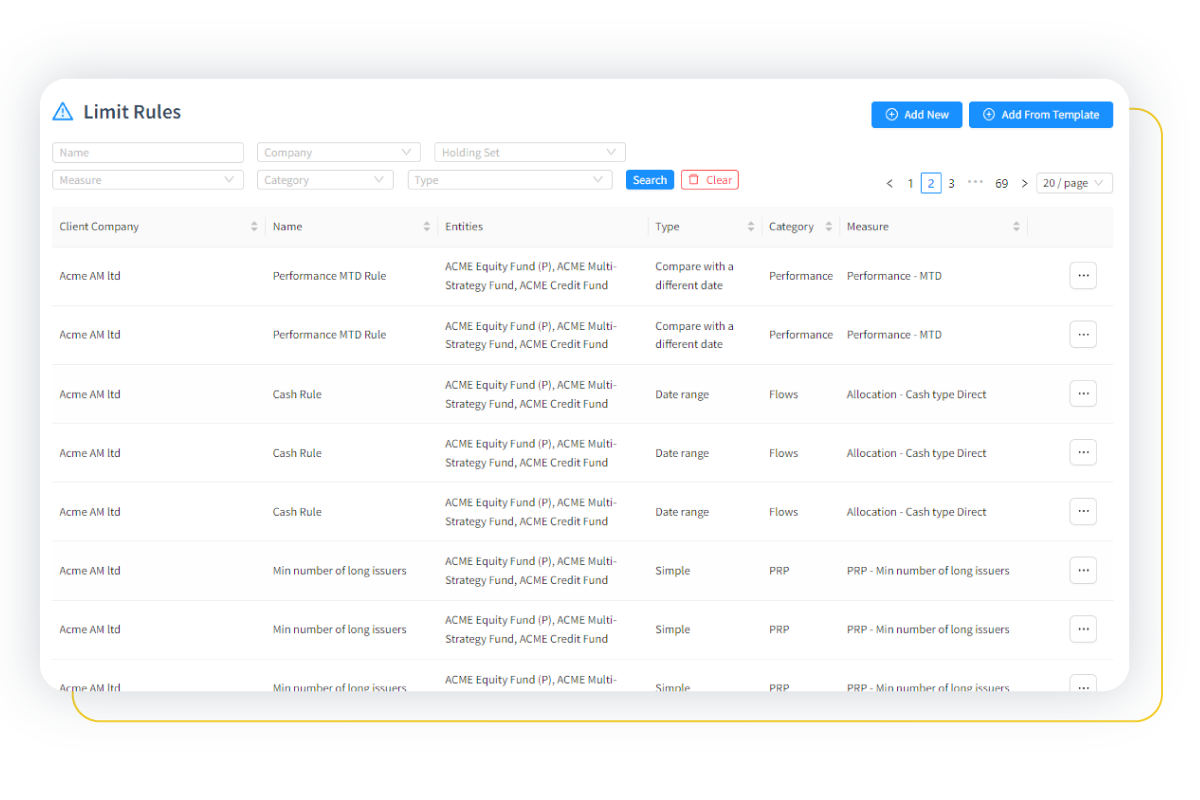 REGULATORY LIMITS AND REPORTING
Comply with confidence
Remove the time sink of regulatory reporting. Get resourcing support and templated reports for UCITS, AIFM, MiFID, Solvency II, Annex IV, EMIR and more. Seamlessly navigate the latest regulatory updates.

Create fully customisable soft and hard limits based on regulatory requirements, investment policy statements and fund risk profiles. Never miss a limit breach with daily alerts.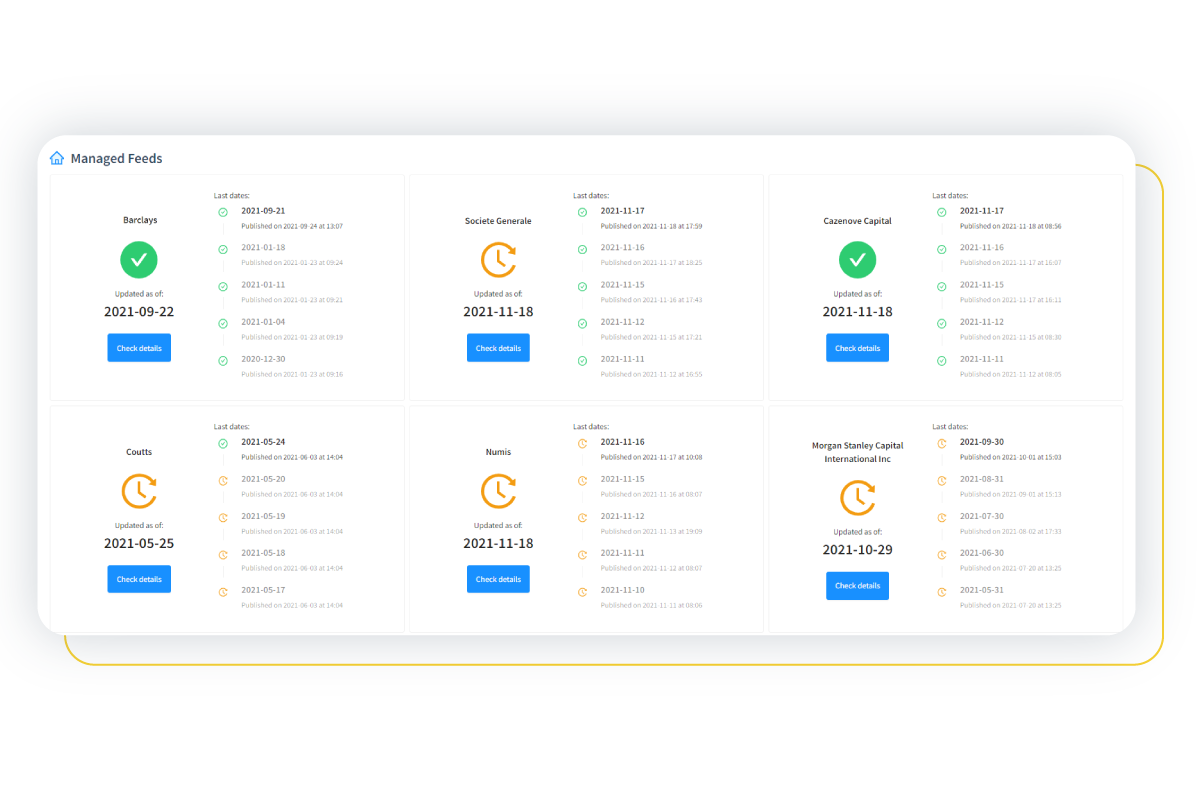 DATA CONSOLIDATION
All your data in one place
Access refreshed data on a T+1 basis to fuel your portfolio analysis and reporting workflows. Receive your portfolio data enriched with the latest market and reference data and eliminate the costs of vendor licenses.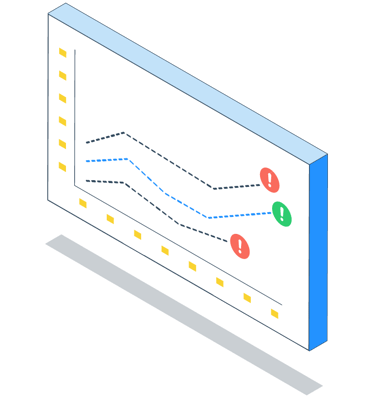 OPERATIONAL EXCELLENCE
Operational support that's built to scale
Create operational efficiency as you grow AUM by automating manual processes, to keep your growing business lean and efficient.
BROCHURE
Sesame for Asset Managers
SELF-GUIDED TOUR
Explore Sesame for Asset Managers
BUYER'S GUIDE
Choosing the Right Investment Management Software
You'll be in great company

Landytech's solution – Sesame – has allowed our team to understand in-depth portfolios' risk and performance by security and industry (and numerous other factors). The analytical engine of the software is very robust, yet the product is easy to use. Landytech's proactive efforts to manage risk, attention to detail, and responsiveness to new matters is unsurpassed.

Ever since we started Tellworth, Landytech have been a business essential service for us. They have proved to be flexible, responsive, commercial and understanding of our changing needs as we grow the business. This year with the challenges we have all faced they have really stepped up; helping us to look at risk and exposures in new ways and enabling better client relationships in the process.

Brooklands have been using Landytech extensively for both Risk and Compliance. We have been very impressed with the service that has been provided and also the accuracy of the data quality. The platform has been very useful to monitor risk for all of our funds at a click of a button.
Brooklands Fund Management

From the first meeting with Landytech, we were highly impressed by their commercial approach, efficient operating platform and experience. They have provided us with a robust risk management function that would be extremely challenging and expensive to implement within our own organisation. We were most fortunate to discover this firm and I would have no hesitation in recommending them.
Rhodon Investment Management

Landytech have proven to be open-minded, resourceful and trustworthy in all that they do. From the outset, they have been able to provide suggestions as to how we can best achieve our client reporting goals in a timely and accurate manner, offering innovative solutions to the challenges we face of bringing together data from disparate sources.
Skerryvore Asset Management
Frequently asked questions
What reports can you create?

We provide a wide range of reporting, covering performance and risk, as well as a regulatory and compliance reports. Our integrations with MSCI BarraOne and RiskMetrics enable detailed and powerful analysis, leveraging off the highly granular data available in Sesame from the receipt of daily position and transaction files, published on a T+1 basis.
How is data security maintained?

The Sesame infrastructure is fully hosted on the Microsoft Azure cloud. Azure provides a wide range of security tools and capabilities that we embrace. We insist on confidentiality, integrity, and availability of customer data, while also enabling transparent accountability. We follow security best practices at each level of our applications and we always take security into account in all our processes.
Can Sesame support me with meeting my regulatory requirements?

Yes. Sesame, supported by our client team team expertise can help automate regulatory reporting including UCITS, AIFMD, Annexe IV, MiFID, Solvency2, OPERA, SFDR and more.
How much does Sesame cost?

Our pricing model for asset managers is dependent on several factors including AUM, the number of managed feeds, the number of portfolios and number of assets. In order for us to give you a more accurate estimate we'll need a few more details from you. You can leave your details by filling in our contact us form here, and one of our team will get back to you.
What level of report customisation is available?

Our report builder enables you to fully customise all components within your report, add your businesses logos and utilise your brand colour palette. The reports will have the look and feel of a fully branded marketing department approved in-house solution.
Do you offer a demo account or trial to see what the platform has to offer?

We aren't able to provide access to a demo or trial account at this time. You can however request a demo of Sesame by clicking here. Our demos are completely tailored to your use case so you can get a real feel for the value Sesame can deliver for your business.
Insight for asset managers