Trusted by the best




Sesame for fiduciaries
Better and faster data. Powerful analytics to inform your decisions. Automated reporting to save you time.

Bring your data together
Bring all asset data together from custodians, banks and any private assets, in one secure platform.

Analytics you can trust
Make informed decisions on client portfolios with near real-time data and multi-asset class performance and risk analytics.

Automated reporting
Save time and create better reports with automated, fully customisable consolidated reports for clients, with your own branding.
Demonstrate fiduciary responsibility & improve client experience
How fiduciaries are using Sesame to grow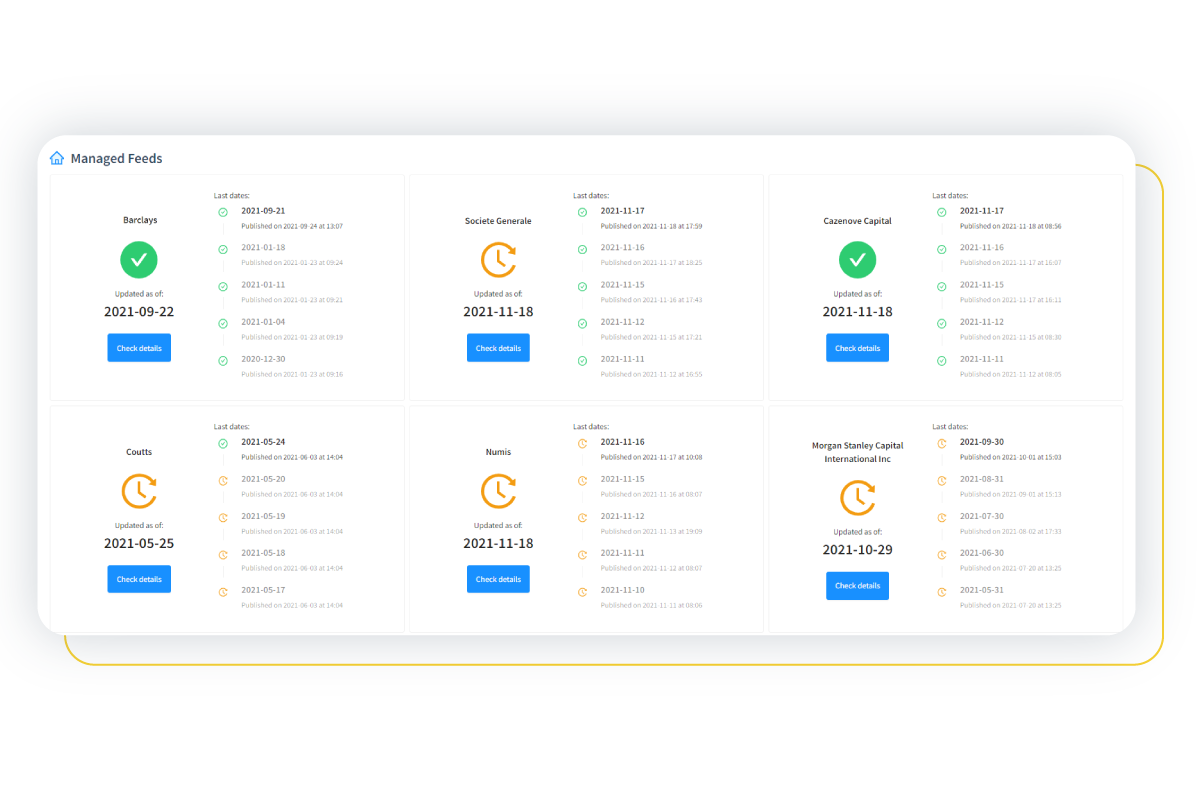 DATA CONSOLIDATION
Unlock the power of your data
Get a refreshed daily view of consolidated and aggregated data across banks and custodians, brought together on an intuitive platform.

Seamlessly integrate data on alternative investments with a proprietary PMS for private assets. Easily update valuations, transactions and positions on any private equity, real estate, collectibles and more.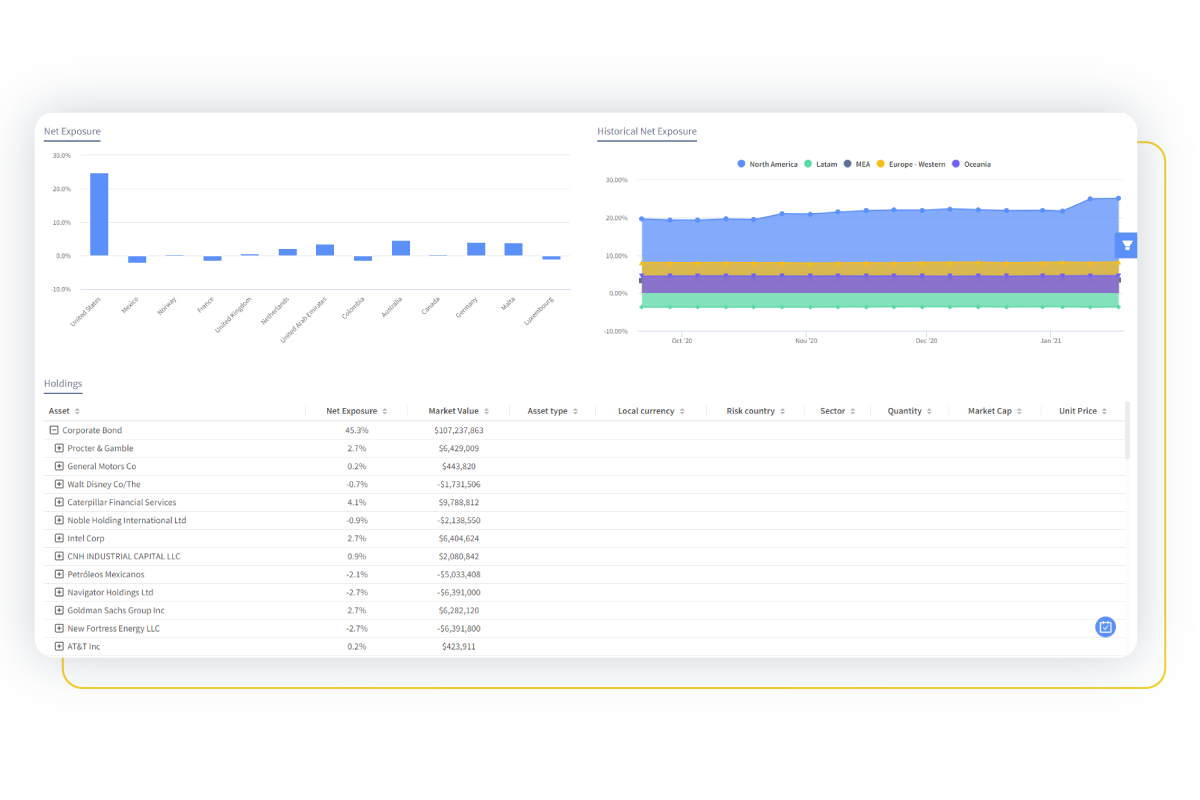 PERFORMANCE AND RISK ANALYTICS
Robust performance and risk analytics
Gain a complete view of the drivers and detractors of performance, with attribution analysis powered by MSCI BarraOne. Analyse risk on a wide range of factors and get clarity on portfolio exposures.

Get a granular breakdown of income and costs, to closely monitor cash flow and manager fees.

Exemplify fiduciary responsibility with actionable daily alerts for limits breaches, and demonstrate exceptional governance against investment policy statements.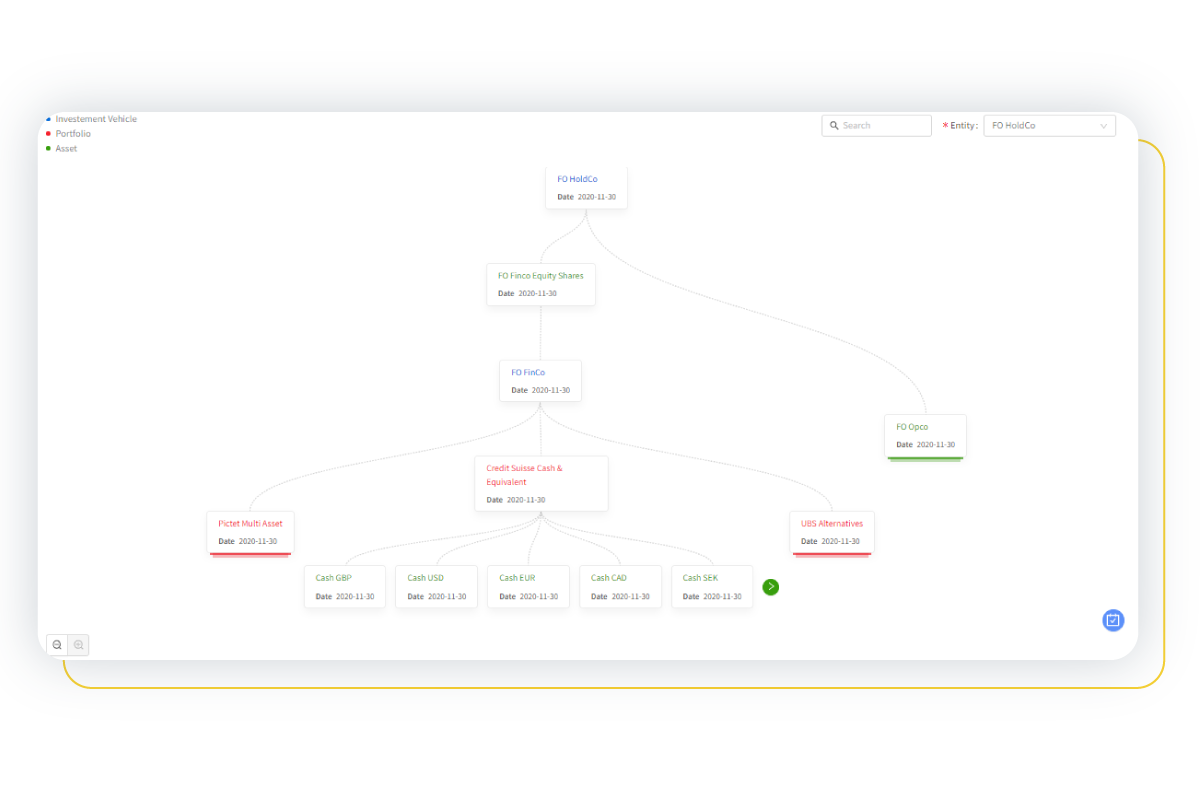 A HOLISTIC VIEW
Get a clear picture of wealth
Visualise your full ownership structure in our platform with granular user permissioning. Analyse performance at a variety of levels by creating custom groupings for legal entities, portfolios and more.

Utilise a look-through approach to view high-level allocation and performance information or to understand the granular detail, should you need to take a deep-dive with clients.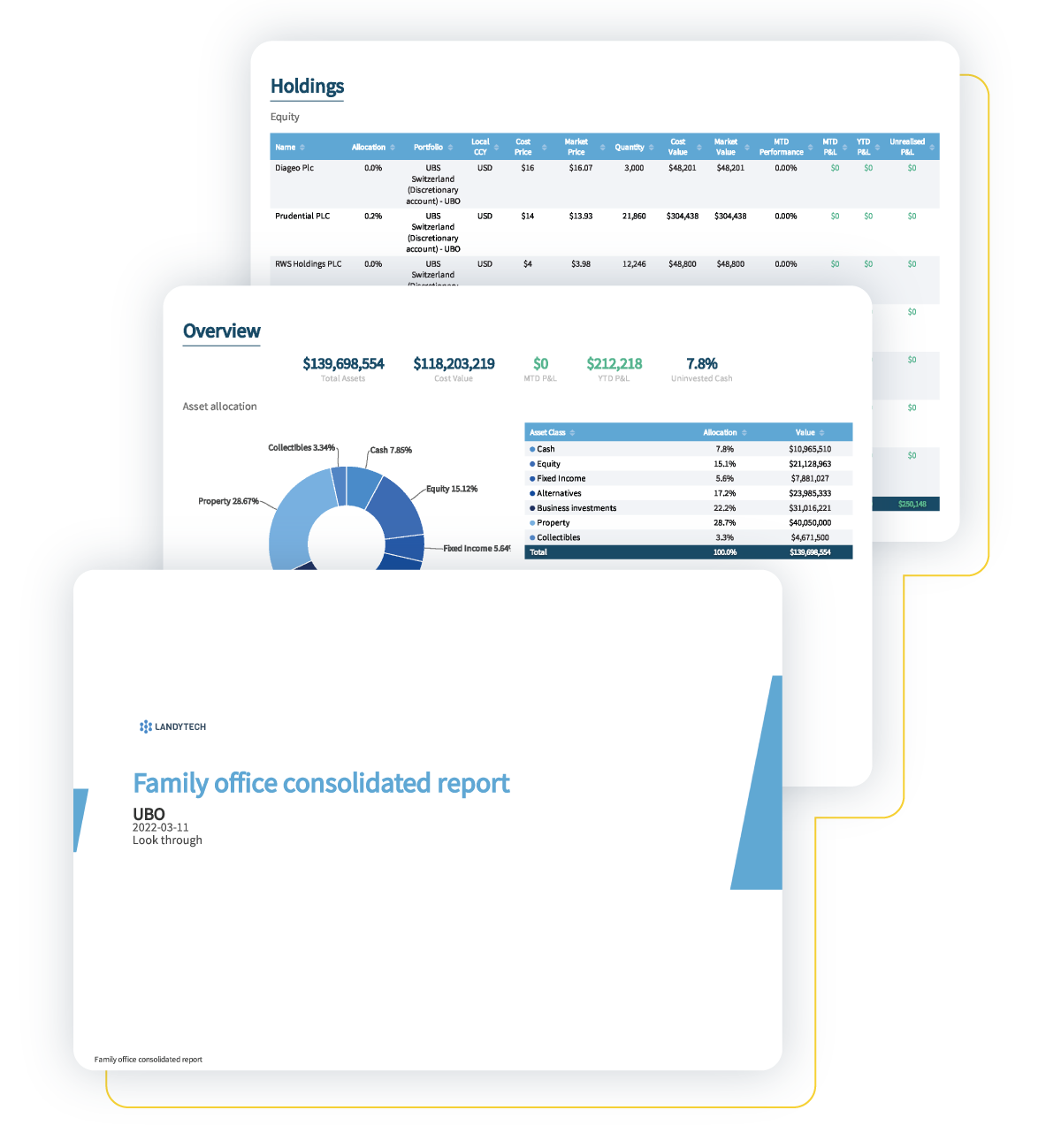 REPORTING
Transform client reporting
Provide an exceptional reporting experience for clients with scalable, fully customisable reports. Experience full control over the look and feel of your reports, and tailor metrics to each clients unique demands.

Automate the production of time-consuming performance reports and ensure you're best positioned to respond to ad-hoc client requests.
What our clients say

Brooklands have been using Landytech extensively for both Risk and Compliance. We have been very impressed with the service that has been provided and also the accuracy of the data quality. The platform has been very useful to monitor risk for all of our funds at a click of a button. The ability to carry out various stress testing (including Covid scenarios) has been very useful to our clients. Finally, the reporting tool has been very important to us and this serves multiple purposes, for example using it for our monthly fund factsheets or for best execution monitoring on the compliance side.
Brooklands Fund Management

Each family's got to look at that reporting system and feel that it is theirs. It needs to be the right colour, it needs to be branded, it needs to be white-labelled, it needs to look like it's come from our office. It unsettles a family if the output is a different colour or from a different source to everything else. Landytech have mastered that well for us. For reporting to evolve, you need to work with a dynamic team growing their business with the same enthusiasm as yours so the two grow together. Landytech tick those boxes.

Ever since we started Tellworth, Landy have been a business essential service for us. They have proved to be flexible, responsive, commercial and understanding of our changing needs as we grow the business. This year with the challenges we have all faced that have really stepped up; helping us to look at risk and exposures in new ways and enabling better client relationships in the process.

Landytech has developed a unique tool and solution for Family Offices. Sesame allows us to monitor a wide range of assets (traditional and alternatives), multi-currencies reports, a depth of data accessible in an organized manner.

The asset aggregation and performance monitoring solution developed by Landytech also stands out for the high availability, deep financial knowledge and consistent expertise of its team. Their scalable support to meet our clients' needs is key.
Paris-based Multi Family Office

We use Landytech for two family office structures. Following an impressive demonstration of Landytech's offering, we asked them to pitch alongside a reputable competitor. The decision to choose Landytech was unanimous. Their offering was far superior in terms of functionality, ease of use and presentation. During the course of our relationship, Landytech have delivered exactly what they promised and more. I cannot speak highly enough of both the platform and the team.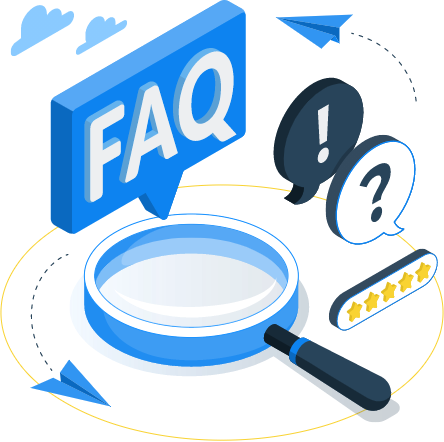 Frequently asked questions
How much does Sesame cost?

Our pricing is dependent on several factors including the number of managed feeds, legal entities, portfolios, assets and users. In order for us to give you a more accurate estimate we'll need a few more details from you. You can leave your details by filling in our contact us form here, and one of our team will get back to you.
What reports can you create?

We can provide a wide range of templated reports including, holdings, flows, performance (overview and contribution), allocation, risk, movements, costs, cash and more. The main benefit of our offering is our report builder function, which empowers users to create powerful reports on the fly and at scale.
How do you consolidate private assets?

We have created a portfolio management system (PMS) specifically for private assets, allowing you to manage all of your private investments. From co-investments, to cars, to alternatives, Sesame allows the user to bulk import data, add transactions and positions, and update valuations.
What level of report customisation is available

Our report builder enables you to fully customise all components within your report, add your businesses logos and utilise your brand colour palette. The reports will have the look and feel of a fully branded marketing department approved in-house solution.
How is my Data Secured?

The Sesame infrastructure is fully hosted in the Microsoft Azure cloud. Azure provides a wide range of security tools and capabilities that we embrace. We insist on confidentiality, integrity, and availability of customer data, while also enabling transparent accountability. We follow security best practices at each level of our applications and we always take security into account in all our processes.
Do you offer a demo account or trial to see what the platform has to offer?

We aren't able to provide access to a demo or trial account at this time. You can however request a demo of Sesame by clicking here. Our demos are completely tailored to your use case so you can get a real feel for the value Sesame can deliver for your business.

Discover the power of Sesame