At a time of inflationary pressure and expected low returns, fiduciaries are under more pressure than ever. But there aren't just economic headwinds to contend with. Industry consolidation continues apace, and firms have not been immune from the 'great resignation'. And all of this at a time where client portfolio data volumes are mushrooming.
To fight back against the squeeze this pressure is putting on margins and cement competitive position with exceptional client service, trust companies need to excel in three areas:
Automating menial tasks so that staff can focus on value-added tasks and initiatives
Demonstrating the highest standards of governance and exemplifying fiduciary responsibility with superior portfolio monitoring
Enabling quality conversations with an exceptional client experience
The need to excel in these three areas is why firms are turning to Sesame. The trust reporting software that completely transforms the data and reporting workflows that underpin a trust company's operations and client experience.
Sesame isn't just changing the game for trust companies; it's rewriting the playbook. A complete redefinition of how fiduciaries create and deliver value, so they can create operational alpha and deliver exceptional client service for generations to come.
It's time to find out how.
Unlock the power of your data
A trust administration and general ledger system are the bedrock of any trust company's operations. But often they're not being fed the data needed to be the single source of truth from which client portfolios are managed. And as ever more disparate, complex, and generally unstructured data now drives the finance world, firms' competitive edge rests on managing this data productively.
For too long, these systems have been subject to ''garbage in, garbage out', being fed a disparate stream of incomplete, untimely data from a combination of spreadsheets, banking portals, PDFs and online documents.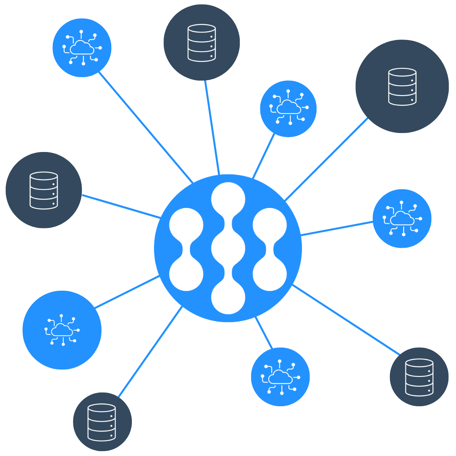 Clients now have incredibly diverse portfolios, and allocations to private equity and direct investments in real estate are growing. Then there's 'passion' assets like yachts, watches, and art to think about, alongside traditional investments.
Sesame consolidates, standardises, and enriches your data with automated connections with banks and custodians, bringing your entire data ecosystem together, all in one place. The private asset PMS in Sesame gives you complete oversight of non-custodied financial and private assets, enabling you to easily manage any changes in positions, transactions and valuations. It provides the ultimate line of sight across all asset classes.
The manual data processes of trust companies also create unnecessary menial work for staff, who become bogged down in manually compiling portfolio statements and balance sheets. Minimising the manual burden can bolster staff retention and recruitment. It also prevents key person risk, where manual processes create pockets of expertise and only a handful of staff understand the intricacies and idiosyncrasies of the procedures that have developed over time.
To fulfil regulatory obligations and perform meaningful portfolio analysis, raw data alone is not enough. It needs enriching with price feeds and identifications, which means paying for costly data licenses. Across many portfolios, there can be the added cost of paying for multiple licenses for the same data. Sesame completely relieves this burden, providing all the enriched data trust companies need at no additional cost.
The full automation of data pipelines that Sesame provides, coupled with its ability to automatically identify and flag data anomalies, allows your team to spend less time cleaning and enriching data and more time growing your business and deepening your relationships with clients.
Portfolio analytics you can trust
To achieve operational alpha and deliver exceptional client service, a scalable data ecosystem is just the start. To unlock the insights you need to make informed decisions on behalf of clients and meet their reporting demands, you need a robust portfolio analytics engine you can trust.
Many trust companies are reliant on investment consultants for performance monitoring reports. Often these are provided 12-14 weeks after quarter end. This makes providing clients with an up-to-date consolidated view of their assets difficult, particularly at times of market volatility where it's more important than ever. It also makes it increase the risk of compliance and investment policy statement breaches and hampers the ability to rectify them quickly.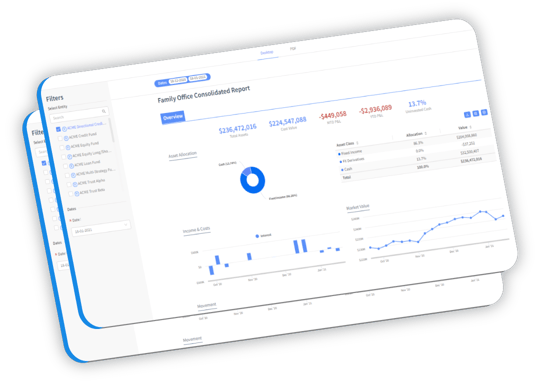 With Sesame, these challenges are a distant memory. Sesame operates on a t+1 basis, meaning you will always have near-real-time insight into all of a client's assets and liabilities, whether financial or non-financial. Such a complete and up-to-date view of the portfolio enables you to exemplify fiduciary responsibility with quality governance and provide an exceptional client reporting experience.
Not only is the data fast, but Sesame also gives you the ability to draw on the high-level allocation and performance information clients want to see on a regular basis, backed up by the granular detail you need to deep-dive in one-to-one meetings. It provides detailed yet easy to understand insights on portfolio asset allocation, liquidity analysis across all assets, the levels and sources of performance, and sophisticated risk metrics on a wide range of factors. Sesame also provides a detailed view of income and costs, so you can keep a close eye on cash flow and manager fees.
The asset aggregation and performance monitoring solution developed by Landytech also stands out for the high availability, deep financial knowledge and consistent expertise of its team. Their scalable solution to meet our clients' needs is key."

Paris-based Multi-Family Office
Reporting Redefined
Sesame is the complete package when it comes to data and reporting for fiduciaries, seamlessly feeding existing trust administration and accounting systems with timely and accurate data. And when you need to present that data, an entire reporting experience, from build to branding to automation, enables trust companies to provide exceptional client service.
Sesame Report Builder's intuitive drag-and-drop functionality ensures that you don't need any IT expertise or coding knowledge to create visually compelling branded reports, at scale.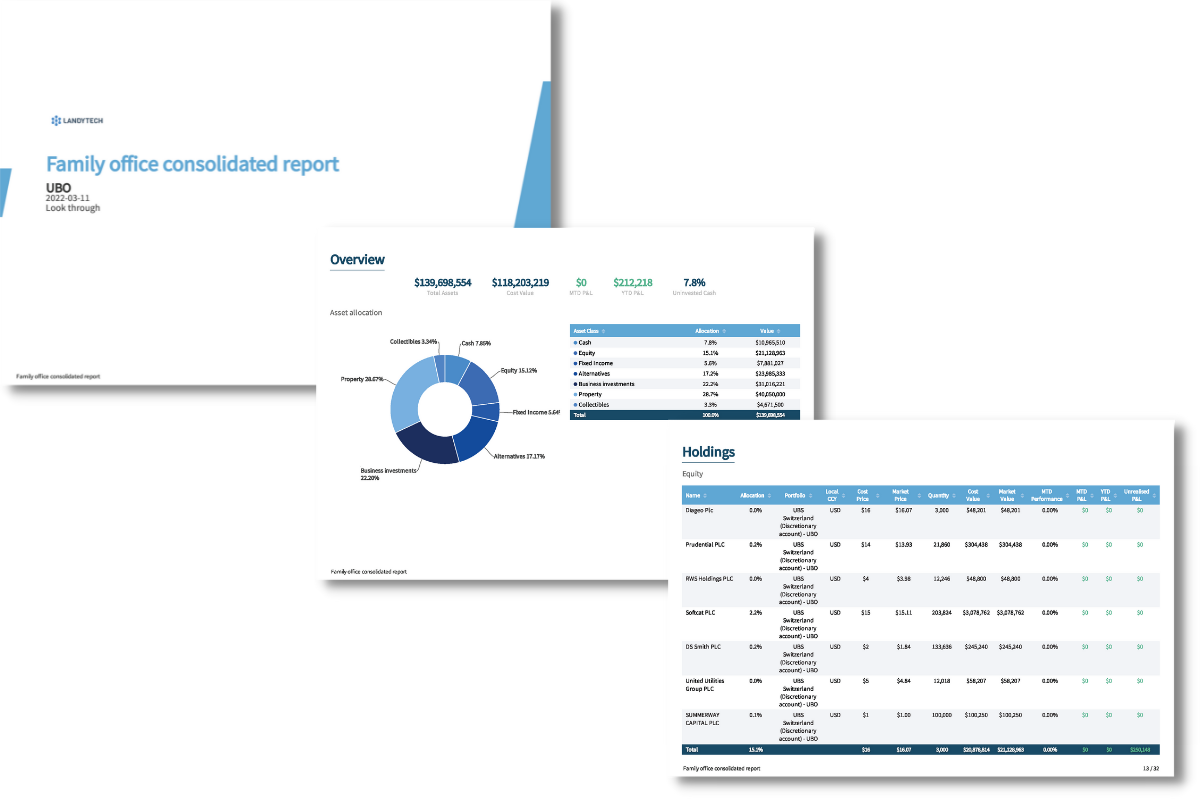 Confidently tell clients what they own and why they own it, with ever greater clarity than possible before. You'll be able to provide clients with a thought-provoking balance sheet capable of fuelling quality conversations so that better decisions can be made on the data.

With Sesame's Report Builder, you can control every visual aspect of your reports at the click of a button, from the metrics included to the layout. You can even customise the headers and footers and the colour palette of your visuals, so you can reflect your company branding and marketing principles, giving clients the consistent experience they expect.

Whether creating your own reports or having our expert professional service team assist you, you will have access to a scalable and customisable reporting solution, tailored to the exacting needs of your business.

And the best part is, once you're happy with a report template, you can save it alongside your favourite components and layouts, so you don't have to build them all over again next time. You can even auto-schedule reports to batch send instead of sending them individually, saving you even more time.
As digitalisation sweeps across the industry and industry consolidation creates economies of scale for the largest players, it's critical for trust companies to find efficiencies and cement competitive position with exceptional client service. That means taking command of data and redefining reporting with a near real-time view of performance and risk that embodies that level of service.
Related Content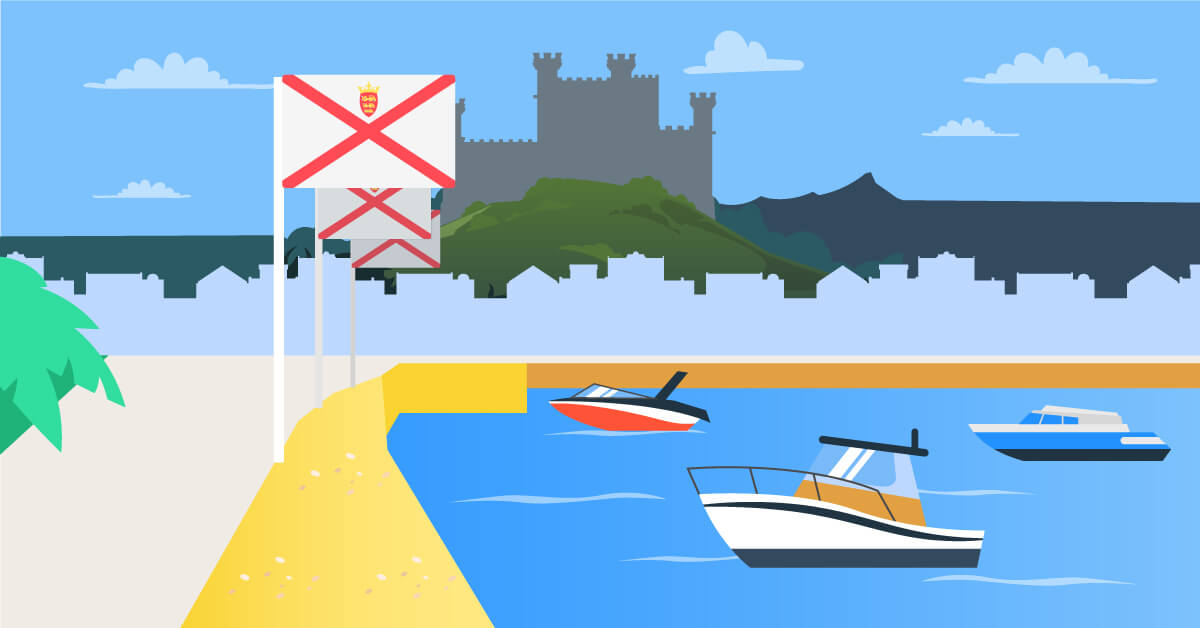 13 Oct 2022
|
Fiduciaries
The top 5 challenges in trust investment monitoring
Trustees have a core fiduciary duty to act in the best interests of their beneficiaries. In order to do so, they must gain an understanding of their long-term goals and aspirations. This is particularly important when it comes to investable assets.
Read more

Read blog

Download guide

22 Sep 2022 | Blog
Why technology is the future for trust investment monitoring
When it comes to investment monitoring, many trustees still rely on reports from investment consultants and the associated manual data consolidation and client reporting processes. Discover how technology is creating a better future.
Read blog