As family portfolios become more complex and the data burden increases, family office staff are increasingly bogged down in spreadsheets and legacy systems that struggle to keep up. And as families become exposed to more and more sophisticated digital experiences across all areas of life, expectations of the service they receive from their family office is evolving rapidly.

Find out how family offices across the globe are using Sesame to transform their data and reporting workflows, freeing up time for them to deepen relationships with families and grow their business.
Take Command of Data
Families increasingly expect a rich flow of timely information at their fingertips. Meaning family offices need faster data outputs. But with asset information spread across disparate sources, putting it all together manually is no easy task.

Sesame consolidates, standardises, and enriches your data across banks and custodians, bringing your entire data ecosystem together, all in one place.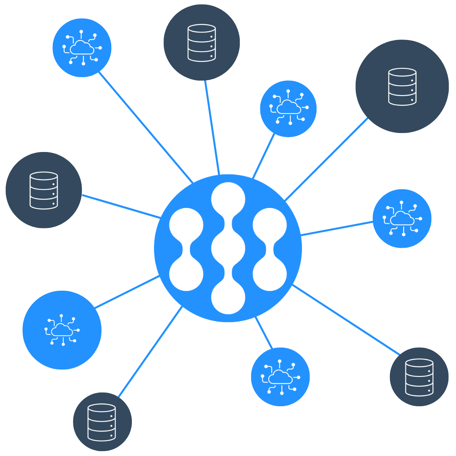 Families also have incredibly diverse portfolios, and in recent years that diversification has only increased. Allocations to private equity and direct investments in real estate are growing. Then there's 'passion' assets like yachts, watches, and art to think about, alongside traditional investments.

The proprietary PMS in Sesame gives you complete oversight of non-custodied financial and private assets, enabling you to easily submit and manage any changes in positions, transactions and valuations and gain a holistic view of wealth across the family portfolio.

A single source of truth for your data streamlines your reporting workflows, enabling you to respond quickly to ad hoc family requests and gives you the ability to create reports with powerful visuals that are easy to understand, so you can let accurate and timely data tell the story.

The full automation of data pipelines that Sesame provides, coupled with its ability to automatically identify and flag data anomalies, allows your team to spend less time cleaning data and more time focusing on growing your business and deepening your relationships with families.

At the heart of Sesame lies data security. It's critical to family offices, which is why all our data storage centres and pipelines meet ISO standard.
When it comes to data security, Landytech have passed all our tests, and then some.

Simon Russell
CEO, Panthera Private Office

Analytics you can trust
On the journey to reclaiming your time, a scalable data ecosystem is just the start. To unlock the insights you need to make informed investment decisions and meet the reporting demands of families, you need a robust analytics engine you can trust. Sesame gives you the ability to draw on the high-level allocation and performance information families need to see on a regular basis, backed up by the granular detail you need to deep-dive in one-to-one meetings.
Sesame provides detailed yet easy to understand insights on the levels and sources of performance, along with sophisticated risk metrics on a wide range of factors. It also provides a detailed view of income and costs, so you can keep a close eye on cash flow and manager fees.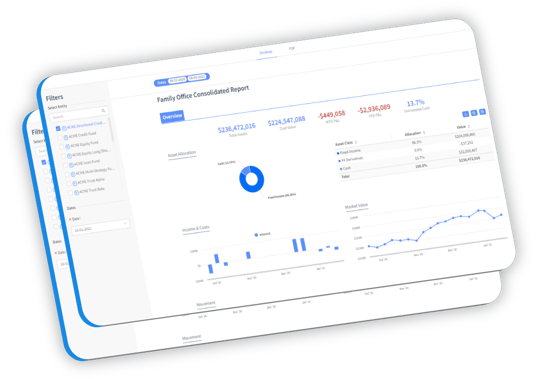 Sesame's wide range of advanced risk and performance analytics is powered by native integrations with MSCI RiskMetrics and BarraOne, including different portfolio exposures, risk contributions, customisable scenario analyses, what-if simulations, liquidity analysis and performance attribution.
The asset aggregation and performance monitoring solution developed by Landytech also stands out for the high availability, deep financial knowledge and consistent expertise of its team. Their scalable solution to meet our clients' needs is key.

Paris-based Family Office

Reporting Redefined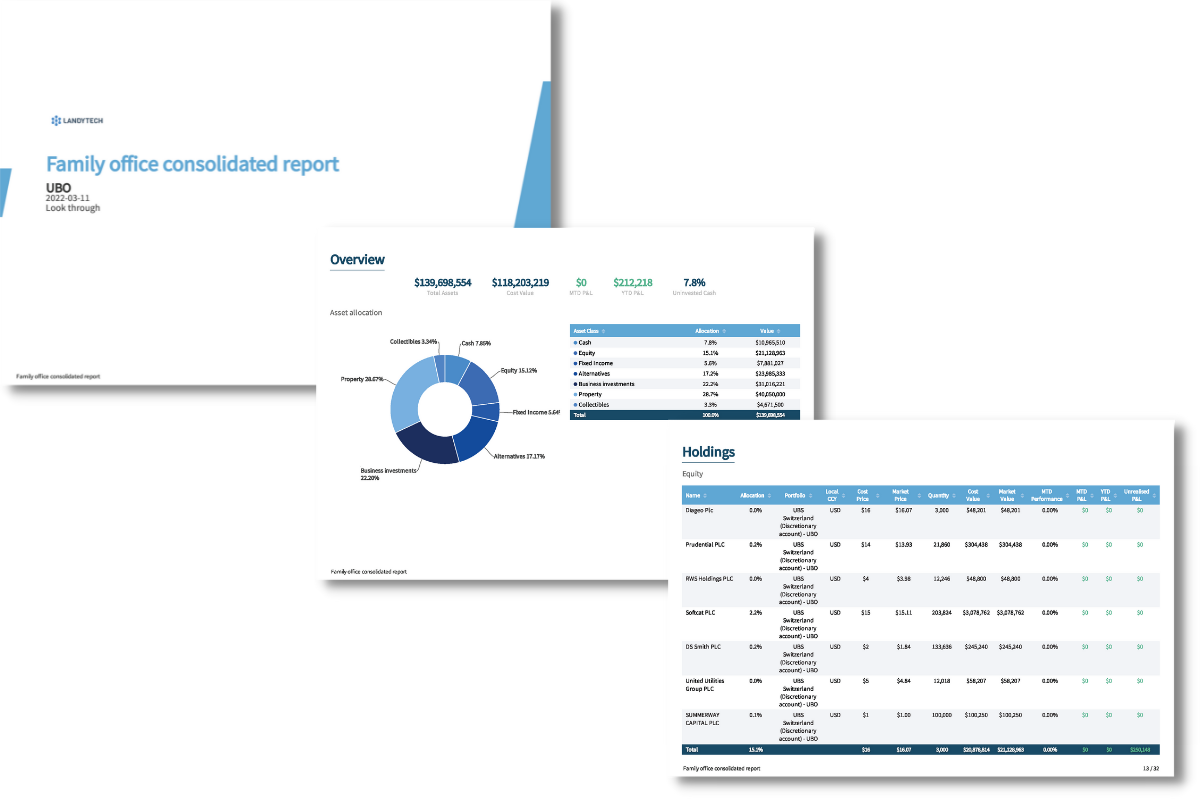 Our intuitive report builder's drag-and-drop functionality ensures that you don't need any IT expertise or coding knowledge to create visually compelling branded reports, at scale, to meet the exacting demands of families.

With Sesame's Report Builder, you can control every visual aspect of your reports at the click of a button, from the metrics included to the layout. You can even customise the headers and footers and the colour palette of your visuals, so you can reflect your company branding and marketing principles, giving families the consistent experience they expect.

Whether creating your own reports or having our expert professional service team assist you, you will have access to a scalable and customisable reporting solution, tailored to the exacting needs of your business.

And the best part is, once you're happy with a report template, you can save it alongside your favourite components and layouts, so you don't have to build them all over again next time. You can even auto-schedule reports to batch send instead of sending them individually, saving you even more time.


Each family's got to look at that reporting system and feel that it is theirs. It needs to be the right colour, it needs to be branded, it needs to be white-labelled, it needs to look like it's come from our office. It unsettles a family if the output is a different colour or from a different source to everything else. Landytech have mastered that well for us.

Simon Russell
CEO, Panthera Private Office


Related Content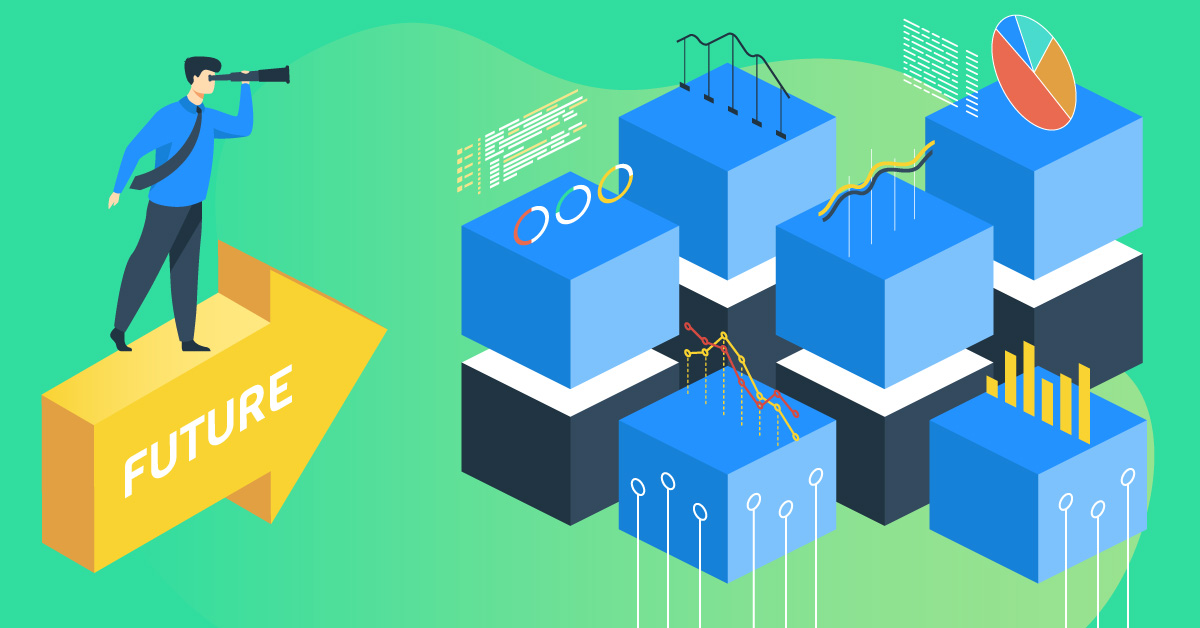 The Future of Family Office Reporting
Once confined to a world of spreadsheets and static presentations, family office reporting is beginning to take on a radically different form as automated data consolidation and near-real-time portfolio monitoring become the norm.
Read more

21 Sep 2023 | Blog
How your family office should be sourcing wealth data
Family offices now manage complex, multi-asset-class portfolios, with fragmented data sources that comprise disparate, non-standardised data sets. How can these data sourcing challenges be overcome?
Read blog

Watch now

Read now