To date, there has been reluctance from asset managers when it comes to fully digitalising their reporting processes. But as investor service expectations evolve in their pursuit of clearer insights, more risk metrics and visually compelling reports, asset managers need the on-demand flexibility to keep up.

Coupled together with the increasing complexity of regulatory reporting, firms are turning to software platforms that can provide them with a single ecosystem for their data and the powerful analytics and reporting engine they need to futureproof their business and set themselves up to win institutional mandates.
Why asset managers choose Sesame
High-quality data at scale

Reporting capable of meeting the demands of today's investors and allocators rests on more and faster data outputs. Sesame consolidates, standardises, and enriches your data across PMS, data vendors, prime brokers and custodians, bringing your entire data ecosystem together, all in one place.

A single source of truth for your data streamlines your reporting workflows, enabling you to respond quickly to ad hoc client requests and gives you the ability to create reports with powerful visuals that are easy to understand, so you can let accurate and timely data tell the story.

The full automation of data pipelines that Sesame provides ensures that you can shift to a system that automatically identifies and flags data anomalies, so your team can spend less time cleaning data and more time focusing on driving new business and deepening your client relationships.
Sesame offers innovative solutions to the challenges we face in bringing data together from disparate sources. And by acting as a data integrator, Sesame reduces the burden on other parts of our small business.
Skerryvore Asset Management

Analytics you can trust
A scalable data ecosystem is just the start, to unlock the insights you need to make informed investment decisions and meet the reporting demands of investors, you need a robust analytics engine you can trust. Sesame provides detailed yet easy to understand insights on the levels and sources of performance, along with sophisticated risk metrics on a wide range of factors.
Sesame – has allowed our team to understand in-depth portfolios' risk and performance by security and industry (and numerous other factors). The analytical engine of the software is very robust, yet the product is easy to use
Kepler Liquid Strategies
Sesame's wide range of advanced risk and performance analytics is powered by industry-standard native integrations with MSCI RiskMetrics and BarraOne, including VaR, different portfolio sensitivities, risk contributions, customisable scenario analyses, stress tests, what-if simulations, liquidity analysis and performance attribution.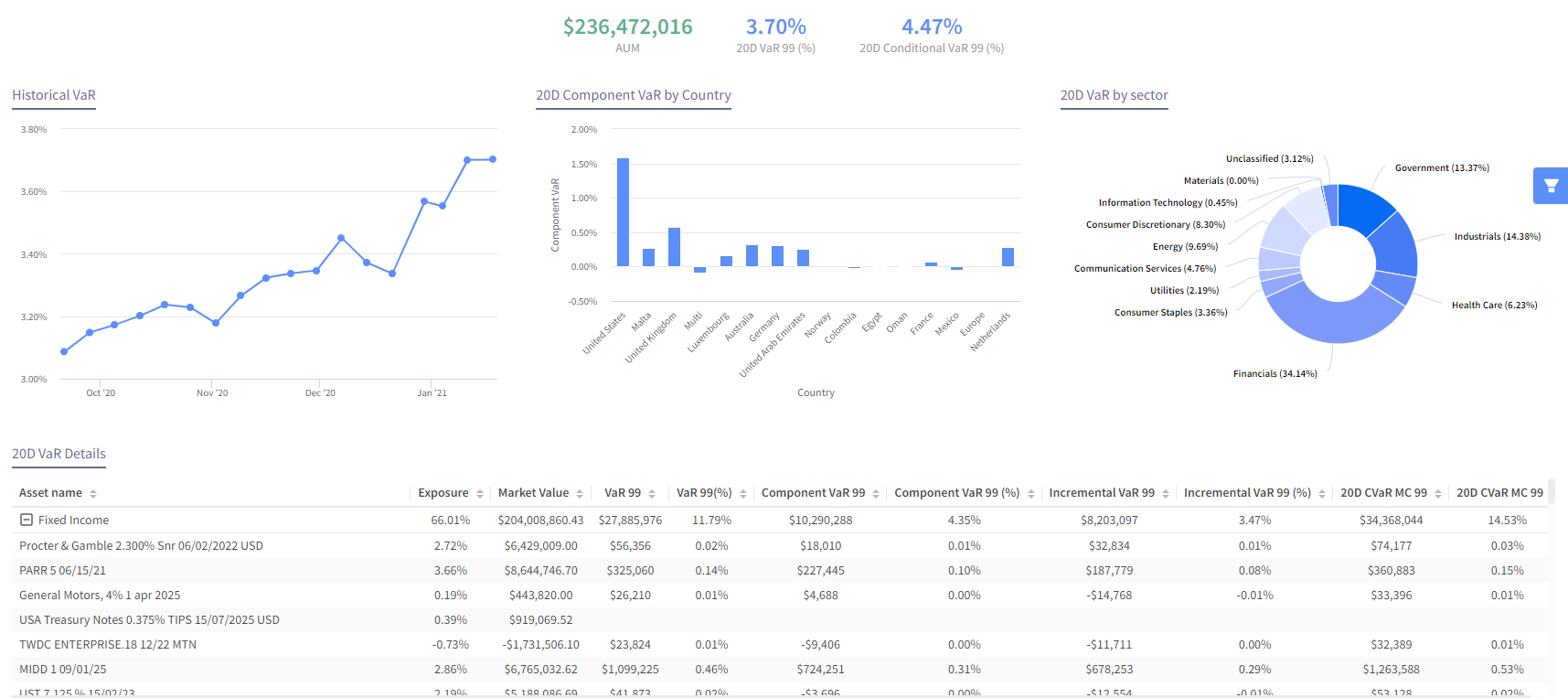 A risk management dashboard built within Sesame
Powerful reports, no IT expertise required
You might be thinking that with all this talk of automated data sourcing and powerful analytics delivered at lightning speed, you might need to be some sort of IT expert to create powerful reports. But you'd be wrong.

Our intuitive interface and drag-and-drop functionality ensure that you don't need any IT expertise or coding knowledge to create visually compelling branded reports, at scale, to meet the exacting demands of your investors.

With Sesame's Report Builder, you can control every visual aspect of your reports at the click of a button, from the metrics included to the layout. You can even customise the headers and footers and the colour palette of your visuals, so you can reflect your company branding and marketing principles, giving prospects and investors a consistent experience.
Sesame's reporting tool has been very important to us, and it serves multiple purposes, for example using it for our monthly fund factsheets or for best execution monitoring on the compliance side

Brooklands Fund Management
Whether creating your own reports or having our expert professional service team assist you, you will have access to a scalable and customisable reporting solution, that can be tailored to the exacting needs of your firm and your investors.

And the best part is, once you're happy with a report template, you can save it alongside your favourite components and layouts, so you don't have to build them all over again next time. You can even auto-schedule reports to batch send instead of sending them individually, saving you even more time.
Keep the regulators happy
When it comes to regulatory reporting demands, in recent years the only way has been up, placing a heavy burden on asset managers to keep up with the detailed reporting requirements it entails.

The emergence of ESG reporting piles even more onto asset managers' already extensive reporting obligations for UCITS, AIFMD, MiFID, DTCC reconciliation under EMIR, Solvency II, OPERA, and the list goes on.

Processes to meet all these obligations are often manually intensive, time-consuming and error prone.

Sesame provides the strong governance framework you need for daily monitoring of regulatory and fund risk profile limits and provides the reporting templates you need to confidently meet all your obligations. So you can sleep soundly at night knowing that you've minimised your risk of a severe penalty for an error or compliance breach.
Built by the experts
Sesame's ability to provide asset managers with the reporting platform they need to futureproof and grow their business and is born out of the Landytech team's extensive experience in the asset management and hedge fund industries.

Through our experience working in and building successful funds, we understand the challenges that small to medium-sized asset managers and hedge funds face in the early years. And most importantly, we understand what it takes to attract institutional mandates and build scalable processes at the same time.
Related Content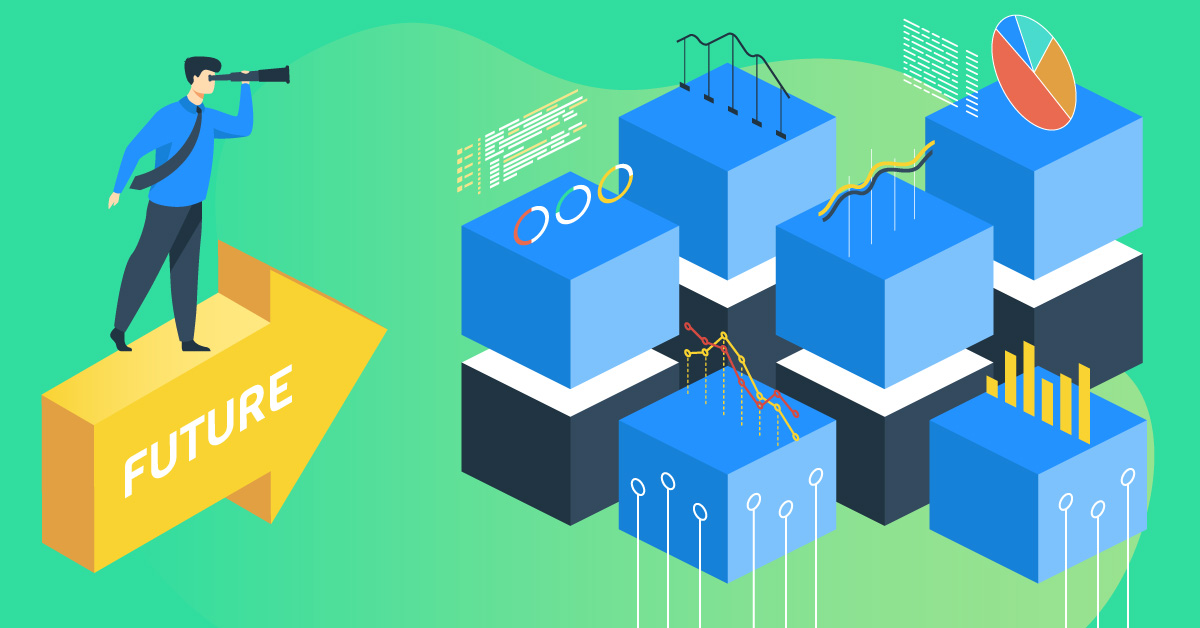 The Future of Family Office Reporting
Once confined to a world of spreadsheets and static presentations, family office reporting is beginning to take on a radically different form as automated data consolidation and near-real-time portfolio monitoring become the norm.
Read more

Discover the power of Sesame